About Us
Our team is now has two dedicated speech-language therapists providing assessment, therapy, consultation, and profesisonal development courses.
Danielle Sisam, Speech-Language Therapist
In 2020, Danielle joined Inclusive Communication. She has been working as a Speech-Language Therapist for the last 3 years, primarily in the Lower Hutt area. Danielle originally comes from Auckland and moved to Wellington in 2017, where she has lived in Johnsonville, Khandallah and Maungaraki. She has a strong family connection with Ōhope in the Bay of Plenty, and spends a lot of time there.
Danielle has developed a passion for working within families, keeping their needs and context front of mind. She strives to create a balance between the lifestyle and individual situation of the family she's working with, and evidence-based practice. Although Danielle is new to the team this year, she's not new to Inclusive Communication. She completed her final placement of her Bachelor of Speech and Language Therapy from Massey University with us, and we are so excited to have her back now working as a fully certified clinician.

Shannon Hennig, Founder and Speech-Language Therapist
Shannon Hennig founded Inclusive Communication to provide options for families and organisations who are keen to put things in place now to ensure that everyone can develop their communication and language skills.
Shanon has been working with children with communication challenges since the mid 90s. She specialises in the area of augmentative and alternative communication (AAC) and completed her PhD investigating expressive voices for communication devices in 2013. Her clinical interests include how to best support people with developmental delays, intellectual impairments, motor disorders, and autism in their journey towards being confident and independent communicators. She also is known for her work with gifted students and students hard to spot language disorders.
Shannon holds both her ASHA certificate of clinical comptence (CCC-SLP) and is a registered member of the New Zealand Speech-language Therapists' Association (MNZSTA).
Shannon's philosophy for Inclusive Communication
I believe it is our job is to work in partnership with clients and their families as well as with the team of professionals supporting them. My training emphasised family-centred therapy and I continue to strive to balance a family's goals with evidence-based practice. I value research and data, however I do not take data during every moment of therapy. I find this interferes with the quality of the interaction and instruction. Instead I believe in sampling skills on a regular basis to determine if progress is being made and using videotaping when possible for this.
In terms of autism, my work is strongly influenced by the SCERTS model and SEE-KS. I take a developmental and social-pragmatic approach, which to me means keeping the process of language and communication development in mind and working on skills within meaningful social contexts. I think a child's emotional state and internal thoughts play an important role during learning. I incorporate aspects of behavioural principals in my work, such as shaping and refining skills over time, however my approach differs in many ways from traditional ABA techniques.
For clients with motor speech challenges, including cerebral palsy and dyspraxia, I apply what we know about motor planning and motor learning to ensure that a child has many opportunities to practice and solidify a motor skill. I try to balance motor challenges and language challenges so that a child isn't overwhelmed by being challenged to do new motor skills and new language skills at the same time. I value multimodal communication and so you will see me acknowledging and valuing a wide range of communication forms including facial expressions, gestures, and writing as well as speech. And of course practice... it takes lots and lots of practice to learn a new motor skill.
When a child has an intellectual disability, I believe it is important to presume competence and potential. I both assume that children often understand more than they appear to while remembering sometimes we all have moments in which we don't understand as well as people think we do.
I encourage multimodal communication. One way of expressing ourselves rarely works in all situations. We all need to use our hands, faces, voices, and technology at different moments in our days.
For everyone, I try to make language more visual as needed, be a responsive and tuned-in communication partner, and to always support emergent literacy.
I value communication first and foremost. I believe the overarching goal for all my clients is to become the best communicator possible. To do this, we need to support social engagement and language learning. Speech is awesome, but I have learned over the years that speech is built upon a foundation of strong social and language skills. I never want to compromise a child's language, literacy, and communication development because of difficulties with speech.
Teaching and outreach
Before immigrating to New Zealand, I taught the graduate level AAC course for the special education department at Fitchburg State College in Massachusetts. My students were completing their Masters in special education where they were fortunate to have a programme that dedicated an entire course to ensure that they knew the basics of how to interact with, teach, and support students with complex communication needs.
I have also given numerous workshops and presentations to schools, nursing teams, doctors, group homes, and parent groups. While clinical work tends to address the communication needs of individuals, I believe it is equally important that our communities and society at large be aware of how to be supportive when interacting with people with communication disorders.
Shannon's education, training, and experience
I completed my Masters of Communication Sciences and Disorders from Emerson College in Boston and graduated with honours in speech-language pathology from Northwestern University in Chicago. I selected these programmes specifically for their courses on augmentative communication, autism, and child language development.
I completed over 400 hours of supervised clinical practice in community preschools, early intervention centres, public schools, day rehabilitation programs for adults with intellectual impairments, and interned at the AAC clinic at Boston Children's Hospital. For several years I worked as an AAC consultant in rural Massachusetts consulting to schools, residential programs, special schools serving children with autism, and preschools on how to best implement AAC strategies within the regular and special education classroom. I have also worked as a school-based speech-language therapist in Oregon serving children with language, articulation, stuttering, and other speech and language disorders. In 2006, I immigrated to New Zealand and joined the TalkLink assessment team based in Wellington for 4 years.
Professional development is important to me and the following were some of the best I've attended:
Caroline Musselwhite on AAC techniques and approaches
Emily Rubin on autism and the SCERTS model
Karen Erickson, David Kappenhaver, Jane Farrell, and Sally Clendon on literacy instruction for children with complex communication needs
ISAAC (International Society for Augmentative and Alternative Communication) conferences
ASHA (American Speech Hearing Association) Conventions
Gail Van Tatenhove on Minspeak and the Pixon Project
Research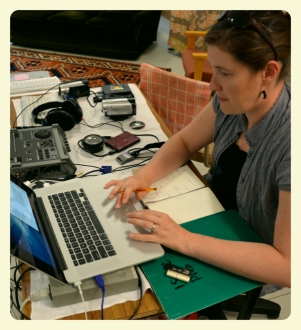 In addition to my passion for providing a high-quality, evidence based clinical service, I also hope to see the day in which people with disabilities can easily express themselves with all the grace, nuance, emotion, and vocal range that they desire.
In 2010 I embarked on a PhD to allow myself time to more deeply consider the role of the synthetic voices used on AAC devices. Much progress has been made on improving the clarity of synthetic voices (i.e., intelligibility). Impressive strides are also being made regarding the customisation of voices so that individual voices better fit a person's unique identity (i.e., personalisation of a voice's gender, age, and regional accent).
Next, I hope that the speech synthesis community will continue to develop more expressive vocal ranges. Specifically, I believe that synthetic voices, and how they are controlled by the person, need to have a more expressive range and be connected to a speaker's intentions, movements, and facial expressions. I want children who rely on AAC to be able to say "no" in many different ways and to be able to tell stories and engage in pretend play using a full range of vocal "stylings". I also want these synthetic voices to convey the passion, feeling, and conviction behind the words spoken by people who rely on speech generating devices. I further want researchers to have the tools to really experiment and play with expressive synthetic speech.
For those interested in my publications, they are listed on Research Gate. I have now shifted my focus towards clinical practice, however I continue to maintain collaborations with researchers throughout the world and am always interested in meeting people working to better understand the challenges of and possible solutions for living, working, learning, and communicating with voices that don't reliably say what you want to say the way you want to say it.
Collaborations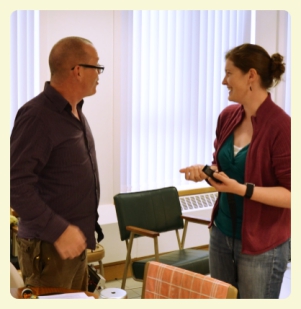 When time allows, I really enjoy collaborating on research projects, policy, and clinical initiatives. Some of my most rewarding and exciting therapy sessions were during co-treats (when two therapists from different disciplines simultaneously work together to address several goals simultaneously) with talented music therapists, occupational therapists, and physical therapists.
My understanding of the state of the art has been greatly enhanced by working with researchers across a wide range of disciplines. I am energized when I get to talk to people from different fields. One of the best parts of my PhD was collaborating with researchers studying speech synthesis, affective computing, child development, haptics, musical expression, machine learning, human machine interactions, and multi-modal human interaction. I hope they learned from me as well. If you are interested in collaborating, please let me know and we can see if our interests and schedules overlap!